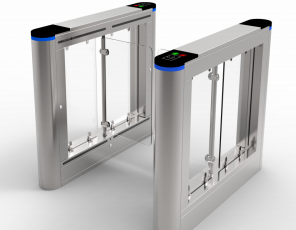 SWING TYPE FLAP GATE CPS6306A
---
All the gates models are space efficient security barriers, with a
compact design, yet offer sufficient space to integrate any
access control system. They can be mounted with display, passage
counter, card reader, token operation traffic lights, command
console, alarm system against unauthorised entries,
interfaced with a PC through a RS232(RS485,TCP-IP)line.
OPERATING MODES
• Single passage in the set direction
• Bi-directional single passage
• Free passage in the set direction
• Always free or locked
• Housing:Made in stainless steel AISI 304 o AISI316.
• Barrier swings-Acrylic, PC, stainless steel frame.
FEATURES AND BENEFITS
automatic identification system and achieve access,
attendance fees or function
• A direction indicator, showed that pedestrian access to
the current status of, and guide pedestrians correct and
smooth passage